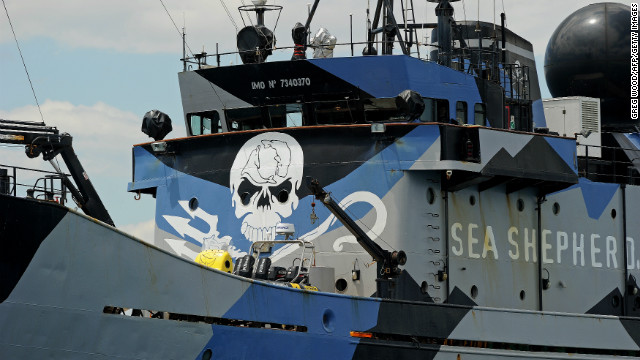 Anti-whaling activists say they were attacked by Japanese ships
By Jethro Mullen, CNN
updated 8:06 AM EST, Wed February 20, 2013
Hong Kong (CNN) -- The anti-whaling group Sea Shepherd said ships from the Japanese whaling fleet attacked its vessels, ramming them and hurling concussion grenades.
"There's been the most outrageous attack on the Sea Shepherd Australia ships today," said Bob Brown, a member of the board of directors of Sea Shepherd Australia, describing it as the "worst incident" the group had experienced since one of its vessels sank two years ago.
In an interview with the Australian Broadcasting Corporation (ABC), Brown said that a large Japanese factory ship, the Nisshin Maru, had repeatedly rammed Sea Shepherd ships in the Southern Ocean near Antarctica where it was trying to refuel and that a Japanese government escort vessel had directed water cannon and lobbed concussion grenades at the activists.
He claimed the Japanese ships had intruded into Australian territorial waters and breached both international and Australian law.
2011: War over whaling in Japan "I'm very concerned and alarmed that Japan has decided to become pirates in our territorial waters," he said. "It's time the Australian government acted."
The Japanese Ministry of Agriculture, Forestry and Fisheries said it was checking what had happened with the whaling fleet and was unable to comment further at this point.
Australian authorities didn't immediately respond to requests for comment from CNN, but the ABC cited Environment Minister Tony Burke as saying he was trying to confirm what had taken place.
"Let's wait until I can get those reports confirmed, but I won't be going quiet once I get the information," he said.
Japan annually hunts whales despite a worldwide moratorium, utilizing a loophole in the law that allows for killing the mammals for scientific research.
Each year, environmental groups like Sea Shepherd face off with Japan's hunters in a high seas drama that has led to collisions of ships, the detaining of activists and smoke bombs fired back and forth between the groups.
*************************************
Now understand that I am all for the preservation of the oceans' species, particularly whales, dolphins, sharks and every other species that assures a viable and healthy marine ecosystem. Understand also that I am appalled by the continued whaling practices of ANY country, Japan included. These things are givens...
Now, understand also that under the 'leadership' of pseudo-Captain Paul Watson, the vessel of the Sea Shepherd Society have been endangering the lives of ships crews (including their own), by committing the very same irresponsible acts on other vessels. For this, they have always expected to be applauded by the mindless herds of their followers, who know absolutely nothing about the laws governing the conduct of ships at sea. They are a danger to themselves and all around them.
For them to find themselves on the receiving end of such attacks and actually have the audacity to bitch and whine about it, is absolutely laughable. Better put your 'big-girl' panties on, kids. If you're going to play with the big boys, you had better be prepared to get as good as you give...