The very short version of this post might be: "Simply enforce them, you idiots...!!!!"
This article from the CNN news site explains with startling clarity why 'gun control laws' in the USA are still a long, long way from being effective. It is predictably not the laws themselves, of which there are plenty, but rather the lacsidaisical manner in which they are applied and enforced.
Background checks should be mandatory. No question about it. Yet these background checks are worthless if the database they are meant to draw is lacking information on the most dangerous citizens. And no, we're not talking about 'hardened criminals' here, but a segment of the population which has proven far more deadly of late.
Reporting and cataloging of potentially violent mentally ill people in the US is virtually non-existent. In many cases they are able to walk into any given store and buy a weapon. A background check is conducted in most instances, but because their mental health records have never been sent by their State government to a federal database, there is no red flag. No warning or caution. They slip under the radar undetected.
While American politicians of all stripes and levels of government (and the largely uneducated public) are quick to point fingers at the Gun Lobby and their supporters when chaos strikes yet another small town, they would do very well to look in their own back yard when it comes to finding a solution to the rampant gun violence in America. I do not recall very many instances IF ANY, where the perpetrators were normal, healthy, mentally stable and well-adjusted individuals.
How widespread is this pattern of State government apathy…? Read on. You won't believe your eyes…
How the violent mentally ill can buy guns
By Jen Christensen, CNN
updated 10:51 AM EST, Tue February 5, 2013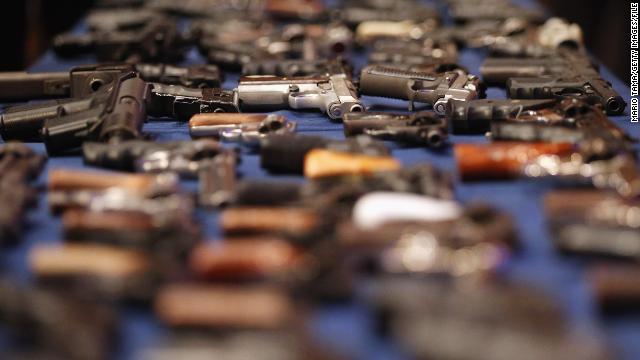 STORY HIGHLIGHTS
• Critics say loopholes in the federal gun background check system put guns in killers' hands
• A federal investigation found states' reporting of mental health records to feds flawed
• As of October 2011, four states hadn't reported a single case to the federal system
(CNN) -- Last November, Oklahoma City police officers went to check on an elderly woman after relatives reported they hadn't heard from her in a while.
At 77, Janet Hume was living with her adult son, Gerald, who the family said was schizophrenic. Since she typically kept in close contact with relatives, police decided to investigate.
They visited the Hume home on three occasions. Each time, her son refused to let them inside, insisting "everything was OK," according to a police affidavit.
But it was far from it.
What police eventually discovered instead was a horrendous case that underscores how little the country's current gun laws can do to stop a mentally ill person from buying a gun -- even if, like Gerald Hume, they have a documented history of violence.
Before their third visit, detectives talked with one of Janet Hume's friends, who gave them troubling news.
"Janet Hume told her that Gerald has recently bought several guns," according to the police affidavit, which was seeking a search warrant for the Hume home.
That third time police went to check on Janet Hume, all hell broke loose.
Gerald Hume held police at bay for 11 hours, barricading himself inside the home as a police helicopter flew overhead. During negotiations, police records show Hume admitted shooting his mother in the chest.
At 4:30 a.m. on November 14, an Oklahoma City Police tactical unit finally forced its way into the home. Hume pointed his 9mm Glock at them. An officer used a stun gun on him; another fired a beanbag rifle at him. But police still had to rush him, pushing him down with their shields.
Police then quickly searched Hume's home, finding Janet Hume's body in a bedroom, the affidavit said.
While Hume's lawyer declined to be interviewed, the inventory of items seized from the home in relation to the case tells a gruesome story.
In addition to the handgun and three rifles, police also removed a Whirlpool freezer, a reciprocating saw and a serrated kitchen knife, according to the inventory, filed with the search warrant. They also seized a pair of blood-splattered safety glasses and a white plastic trash bag containing women's clothing that was "cut up/stained," the document said.
Authorities found parts of Janet Hume's body inside the freezer, along with the body of a house cat, the district attorney told the Oklahoman newspaper.
Gerald Hume was described in the affidavit as a "known schizophrenic (who) hears voices, and requires treatment" and who has had "several mental health interventions with OCPD" and a history of violent behavior.
He didn't steal his guns or borrow them. He bought them.
"He bought them like any normal person would -- he got them at Walmart," said Oklahoma City Police Capt. Dexter Nelson.
Hume bought the rifles at the Walmart in Moore, Oklahoma, on September 25. The next day he bought the Glock at Gun World in the nearby town of Dell City, according to Nelson. Both are federally licensed gun dealers that conduct background checks. The checks, in theory, are supposed to stop certain people -- including the mentally ill with a history of violence -- from buying them.
Repeated system failure
"Even after you have a brief conversation with (Gerald Hume), you can tell something is not right," Nelson said. "Visibly, he even looks 'off.'"
Many law enforcement and gun merchants are frustrated with the system, he said. But "what could (the retailers) do if a person passes a background check? They don't have the authority to check if he's lying. We as law enforcement don't even have that ability, because mental health records are kept in each separate jurisdiction in Oklahoma. Those files aren't transferred to a central state or federal system we can check.
"It's far too easy to pass a federal background check."
Federal law makes it illegal to sell or give a firearm to anyone who "has been adjudicated as a mental defective or has been committed to any mental institution."
Federally licensed gun shops must use the National Instant Criminal Background Check System, or NICS. Private sellers and gun shows have no background check requirement.
But information in the NICS is incomplete, particularly where mental health records are concerned, investigations found. That's because of what some of the system's critics call a huge legal loophole in the background check laws that put "guns in the hands of killers," according to a study conducted by a group of mayors.
The system is only as good as the data. And "the data is the real problem," said Mark Glaze, the director of Mayors Against Illegal Guns, an organization whose recent in-depth study found millions of mental health records were missing from the federal background check system.
"It's an unsatisfying answer, since people always want to blame the soft federal laws or blame the gun lobby," he said. "But if you have ever worked around a state legislature, they'll tell you there is no money and no time to improve this kind of reporting.
"It's sad, but sometimes it takes a national crisis to get people to notice."
It was in the wake of a national crisis -- the shootings at Virginia Tech -- that President George W. Bush signed the bipartisan-backed "NICS Improvement Amendments Act of 2007." The National Rifle Association-supported piece of legislation was aimed at strengthening state reporting of vital information about mental illness to the federal database used for gun background checks. The NRA did not respond to an interview request.
Seung-Hui Cho killed 32 people at Virginia Tech using guns he bought at a federally licensed dealer. He had passed the federal background check, even though a judge had declared Cho mentally ill the year before. Virginia failed to send that information to the federal system so his name would have been flagged.
'Lack of political will'
Generally, background checks have kept more than 1.5 million guns out of the wrong hands, according to federal records.
This law has now been in place for about five years, but a federal investigation last July, in addition to the in-depth study from the Mayors Against Illegal Guns, found the vast majority of states fail to pass on mental health records to the federal system. That means the mentally ill may still easily buy guns.
As of October 2011, 23 states and the District of Columbia had submitted fewer than 100 mental health care records. Seventeen submitted fewer than 10 records, and four states hadn't reported a single record to the federal background check system, according to the federal investigation, conducted by the Government Accountability Office.
As of October 2012, Oklahoma had submitted only three mental health records to the NICS Index, according to the mayors' group.
When study researchers wanted to find out why, they spoke with an unnamed Oklahoma official who said there were no state privacy laws or logistical hurdles blocking record submission in Oklahoma, as there are in other states. Rather, a "lack of political will appears to be the only barrier to submission," according to the unnamed official cited in the study.
Under current state law, the only cases Oklahoma sends to the federal system are people who have been forcibly committed. Hume did not meet that criteria, according to police.
Under the 10th Amendment, the federal government cannot legally make states submit these records, regardless of importance. "Instead they've got to beg, shame or really hang a lantern on the problem to get the states to comply with this federal law," Glaze said.
To do that, the 2007 law provides financial incentives and punishments to get states to send records. The states can use the money to pay someone to clean up data or submit it to federal agencies. Some grants are large enough to help states build new record-keeping systems.
Penalties can be doled out to states that don't send records in, but no one seems to know of any that have actually been handed out.
"The law has never acted the way it was designed to," said Shams Tarek, spokesman for U.S. Rep. Carolyn McCarthy, a New York Democrat who initiated the bill. "The problem is the bill relies on congressional appropriations for its funding, and it's never had even close to the full amount it should get."
That's true even under the Obama administration, which has recently proposed its own solutions to help keep guns away from the violent and mentally ill in the wake of the massacre at an elementary school in Newtown, Connecticut.
The Obama administration asked for $5 million in fiscal year 2013, according to Tarek, who describes that as "a pittance." Republicans in Congress -- notably two from Virginia, added Glaze -- more than doubled that request, but even that was about a quarter of the money needed, according to Tarek.
Federal investigators found that while more mental health records are going into the system than ever, 12 states are responsible for the bulk of those records.
"Most states made little to no progress with their reporting," said Carol Cha, co-author of the GAO investigation. "The rewards and penalties put in place are not sufficiently effective."
Other barriers
The investigation, which came out in July, found three other main barriers to states' reporting.
First, there were technical limitations. Some states still rely on paper records. Only a small number keep a central database that would be easy to transfer, according to Cha.
The second barrier relates to states' privacy laws. "Many of the states we spoke to felt they may need explicit state statutory reasons to share the data," Cha said. "They erroneously felt there were privacy issues."
In the 20 states that do have laws mandating reporting, the rates are higher. Texas passed a law in 2009 increasing the number of records it sends to the system by 200,000, according to Cha.
That makes gun-friendly Texas -- the state next to Oklahoma, which has only reported three records -- one of the best record-reporters to the federal background check system in the nation, according to the analysis by the mayors' group.
The final barrier is a lack of communication between state agencies. Mental health records are kept in a variety of offices that don't all talk to each other.
In Illinois, for instance, the state auditor general told Cha there are some 114,000 mental health records kept in private hospitals. In 2010, only 5,000 were reported to the federal system. "There is no formal mechanism in place to share these records, and that's got to change," Cha said.
Some states told Cha they weren't aware of the incentives to report. She's encouraged the states that are effectively reporting this information to help those that aren't.
Glaze and the Mayors Against Illegal Guns group hopes McCarthy's new Fix the Gun Checks Act of 2013 will increase funding to put some real teeth into the law. Glaze is also hopeful about the president's latest moves to urge universal background checks and to improve this reporting system.
Obama has been a consistent critic of the law, writing in an op-ed piece last year that "We must do better."
Nelson, the Oklahoma City police captain and 26-year law enforcement veteran, would agree. Like the president, he thinks the problem goes far beyond just this poor reporting system.
"We used to have good mental health services here, but like with everything, when cities and states started to run out of money, we started to see more people who clearly need help on the streets," he said.
"When they took the money out of mental health, especially in a state where we like our guns, these people became our problem. I'd love to see that change, too."
**********************************
So for those who thought they had all this figured out, I.E.: "Ban guns and the problem will go away", it should now be easy enough to see that those who would perpetrate senseless violence against others, are not simply gun owners. To be truthful, the knowledge that you live amongst a sea of such ticking human time-bombs, should make you drop to your knees and thank whatever diety you happen to believe in, that you DO in fact have to right to keep and bear arms, for the defense of yourself and your country.
Instead of bitching to the President or oher federal government authorities to 'fix the problem', residents would be better served if they took their voices to the street and demanded that their State authorities do the right thing, to ensure that the existing gun laws can be enforced and keep weapons from the hands of those who most certainly should not have them.